Let's talk about renovating your dream home
First and foremost Transformations believes in renovating houses to create homes that are perfectly matched to our client's needs and wants. We bring together a team of experts who take pride in their craft to deliver a highly personalised and professional renovation experience across Perth, Western Australia.
We have more than 25 years experience
Each renovation project is personally managed by Transformations Australia Founder, Kellie Dobbie.
Kellie has over twenty years of renovation experience and is passionate about working with people to transform the way they live. This process always begins with getting to know people, understanding how they live now and how they want their home to change. Taking this route dictates the outcome; a home that beautifully reflects the hopes and dreams of it's owners.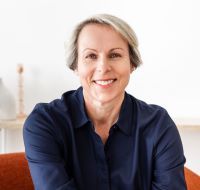 We provide a really personalised service and take on a small number of projects each year. Each one starts with getting to know our clients. We undertake detailed planning which increases the probability of a smoothly executed renovation, and we stay with each project from start to popping corks, actively managing the process. We inject a great deal of love and care into each project we're trusted with and it shows, in the presentation and feel of the home, the animated stories of the before and after, the feeling of pride our team collectively feels on completion and the smiles we leave behind.
---
We recently had our kitchen remodelled by Kellie and her team at Transformations. Before starting we had heard many awful stories about kitchen renovations; the cost, the time, the mess, so we put our renovation off until things just stopped working!
I feel so lucky to have found a review recommending Transformations. I have to say, that with Kellie's guidance, our work was completed with a minimum of fuss. From introducing us to all the trades, connecting with our whole family, to being available what seemed like 24/7 (Kellie you need to turn your phone off sometimes). We event went away on holiday halfway through the job and Kellie sent photos. The result is more than we could ever have dreamed of, our way of living in the space has totally changed for the better. We will be doing our bedroom next and will not even bother looking at anyone else to do the work. I only hope Kellie isn't too busy to take it on.
Wishing you and your team all the best until next time.
Megan & Neil
---
By partnering together we create your perfect abode
At Transformations we know every family is unique in the way they interact with one another and therefore believe every home must be unique in the way it's designed, built, decorated and appointed. We take the time to get to know your family, including the members of your family that may not live with you but will visit and therefore need to be considered. By doing so, we ensure that every renovation is perfectly suited to each and every member of your family.
---
Kellie has a remarkable rapport with a vast gamut of talented and responsive tradespeople. Least of all to mention her own notable talent, enthusiasm, promptness to changes and pleasant disposition.
Dick Shepheard
---
OUR PERSONALISED APPROACHED GUARANTEES THE PERFECT HOME FOR YOUR FAMILY
Working together to achieve your dreams
Our renovation process starts with an obligation-free one-on-one consultation to understand the family needs and dynamics, preferences and requirements.
1
Develop your bespoke renovation plan based on your desired outcome, family requirements, timeline and budget.
2
We handpick the right team with the right expertise to work on your project and we introduce them to you early in the planning phase.
3
Presentation of your Project Plan, detailing project pricing, proposed timelines and discussing logistics.
4
We work with you to schedule your renovation at a time and in a way that accommodates the needs and lifestyle of your whole family.
5
We actively manage your renovation which means our team will be working on your project daily and that any issues can be resolved in a timely manner.
6
We pop the corks with you to celebrate your new home!
---
Kellie and her most excellent team of tradies and outstanding interior designer Casey, worked around us at all times. We left for work/school/sport/appointments as usual and Kellie took control of the process. We knew what was happening for the week ahead as the schedule and budget was always spot on. We were advised of the best times to be out of the house as the team worked so hard to complete a complex job on time.
Damian & Lucy
---
Recent projects
At Transformations we pride ourselves on bringing together the very best tradesman and service professionals to create expertly renovated homes.
Here are a few recent examples of the homes we have renovated.
---
Highly recommend Kellie and her company. We went away for a 4 week holiday overseas and left our 3 bedroom, 10 year old out of date apartment in her totally capable hands to fully renovate and upgrade and were not disappointed. The transformation upon our return from holiday was absolutely amazing due to the fact Kellie took total care and notice in regards to our very high expectations. Kellie is extremely thorough and has the most amazing tradesmen working for her. After working closely with Kellie 6 months prior to the renovation in planning for this renovation, we felt totally at ease from our initial meeting. We not only acquired a fantastic new apartment however gained a wonderful friend. Keep up the great work!
George & Vicki
---
Let's chat about your dream home
We would love the opportunity to find out what you want from your renovation, and work with you to craft the perfect result.